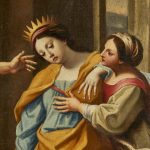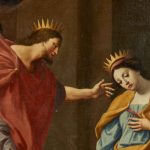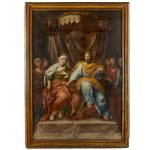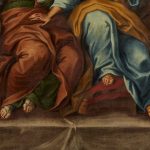 18th Century Pair of Italian Biblical Paintings Esther before Ahasuerus
From Central Italy, a pair of oil on canvas paintings with figures, depicting biblical scenes of Esther and King Ahasuerus, dating back to late 18th century, of Italian School, 1780 circa, in good age related condition, set within painted and silvered antique frames.
According to the Hebrew Bible, Esther was a Jewish Queen of the Persian King Ahasuerus and this painting depicts her kneeling before Ahasuerus to beg him to spare her people.
This works of great impact, is of Italian origin, were hanged in a private palazzo in Milan.
Both canvas of this Italian pair of antique paintings have been relined and restored thirty years ago.
Measures: CANVAS :Height 130 cm, width 90 cm. FRAME SIZE : 145 BY 105 CM- 7 cm depth.
SHIPPING: A SAFE PACKING AND CRATING IN A CUSTOM-MADE FUMIGATED WOODEN BOX IS COMPULSORY AND WILL BE QUOTED SEPARATELY ACCORDING TO THE FINAL DESTINATION.
DELIVERY IN 72 HOURS
Thanks to agreements with the most important transport companies we are able to deliver within 72 hours from all over Italy!
INSURED GOODS
Each shipment is traceable and insured for the full value!
MAXIMUM CARE PACKING
The attention and care in packaging allow us always to travel the purchased goods with confidence and safety.
AUTHENTICITY CERTIFICATE
Within each package you will find tax records and the object authenticity certificate.
C.C.I.A.A. di Milano – Rea n° 1353105 | P.Iva 09289030158 | Copyright © 2023