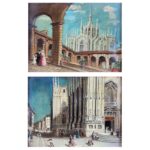 Milan Duomo Cathedral Pair of Italian Landscape Paintings 1950s circa
Pair of  Italian Milanese Duomo Cathedral views 1950 circa,  pair of  Italian landscape paintings, oil on poplar plywood panels,  both signed A. Bianchi on the right and left in the lower part. Gilt and ebonised frames.
The first depicts the side of the Duomo with a glimpse of Corso Vittorio Emanuele, crowded  by numerous figures and street vendors. The second  portrays the rear part of the monument seen from a loggia with round arches and the figures in the foreground to the left of a prelate talking with a lady and child. On the back the label of an art gallery that certifies its origin. In good condition.
DELIVERY IN 72 HOURS
Thanks to agreements with the most important transport companies we are able to deliver within 72 hours from all over Italy!
INSURED GOODS
Each shipment is traceable and insured for the full value!
MAXIMUM CARE PACKING
The attention and care in packaging allow us always to travel the purchased goods with confidence and safety.
AUTHENTICITY CERTIFICATE
Within each package you will find tax records and the object authenticity certificate.
C.C.I.A.A. di Milano – Rea n° 1353105 | P.Iva 09289030158 | Copyright © 2023