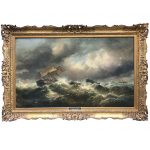 Bromley John Mallord 19th Century Stormy Sea English Marine Painting with Boats
An English marine painting depicting a seascape by John Mallord Bromley (London 1858- Torquay 1939), late 19th century Victorian marine view, a stormy sea oil on canvas painting, with a broken boat mast in the foreground, three boats, a sail boat, a paddle steamer and a rowing boat with figures.
Member of the Royal Society of British Artist, he exposed a lot of works in London from 1876, especially at the Royal Academy, at Suffolk Street at the New Water-Colors Society and at the Grafton Gallery.
Some of his works are exhibited in the museums of Melbourne, Sidney and Reading.
Signed lower left with monogram. Set in giltwood frame of the period. The work comes from a private collection of Milan and is in good condition, ready to hang. Size 102 x 152 x 9 cm – canvas only measures 77 x 127 cm.
John Mallord Bromley's byography from E. Benezit Dictionaire des Peintres, Sculpteurs, Dessinateurs et Graveurs. Vol.2 page 836.
He was trained by his father, the artist William Bromley II, who was trained by his father, the engraver William Bromley I 1769-1842.
Bromley was known to have lived in London in 1880 and 1888, in Rochford, Essex in 1885 and St Ives, Cornwall in 1897. In St. Ives he joined the Arts Club.
His works show views of the town and harbor life of St Ives and neighboring fishing ports.
In 1899, Bromley married fellow artist Selena M. Wing. The couple lived in St Ives until 1901, when they moved on to Torquay, Devon. Bromley died in 1939.
ORGANIZATIONS
– St. Ives Arts Club (STIAC), 1898
– St. Ives Society of Artists (STISA), ca.1929-1939
EXHIBITIONS
1917 Plymouth Art Gallery, November.
1880-1904, etensively
Dowdeswell Galleries, 30 exhibitions
Royal Academy, 17 exhibitions
Royal Society of British Artists, 87 exhibitions
Royal Institute of Painters in Water Colours, 11 exhibitions
Royal Institute of Oil Painters, 4 exhibitions
DELIVERY IN 72 HOURS
Thanks to agreements with the most important transport companies we are able to deliver within 72 hours from all over Italy!
INSURED GOODS
Each shipment is traceable and insured for the full value!
MAXIMUM CARE PACKING
The attention and care in packaging allow us always to travel the purchased goods with confidence and safety.
AUTHENTICITY CERTIFICATE
Within each package you will find tax records and the object authenticity certificate.
C.C.I.A.A. di Milano – Rea n° 1353105 | P.Iva 09289030158 | Copyright © 2023