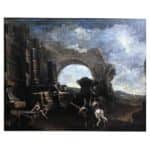 Italian 18th Century Baroque Landscape with Ruins and Figures
Baroque Capriccio with Ruins and Figures, Early 18th Century Italian oil on canvas painting, circle of Alessandro Magnasco, il Lissandrino, in good age related condition. The composition of the work focuses mainly on the ruins, observed by the Roman knight observing two beggars sitting on the rubble as to emphasize the decadence of the classical world.
The painting has been lined and reported on a new frame. Has been restored and has some painting additions. It comes from a Lombard private collection, set within a later 19th century French plaster frame.
DELIVERY IN 72 HOURS
Thanks to agreements with the most important transport companies we are able to deliver within 72 hours from all over Italy!
INSURED GOODS
Each shipment is traceable and insured for the full value!
MAXIMUM CARE PACKING
The attention and care in packaging allow us always to travel the purchased goods with confidence and safety.
AUTHENTICITY CERTIFICATE
Within each package you will find tax records and the object authenticity certificate.
C.C.I.A.A. di Milano – Rea n° 1353105 | P.Iva 09289030158 | Copyright © 2023