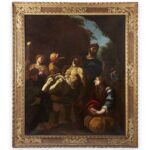 17th Century Italian Large Baroque Painting After Carracci The Burial of Christ
A large oil on canvas Italian painting of 17th Century Baroque Emilian Bolognese school after the Annibale Carracci work the burial of Christ now in the Metropolitan Museum of Art in New York.
It is a high pathos and dramatic work from an emotional point of view, featuring a theatrical use of color, lights and gestures of its characters.The true magic of the painting is the very personal use that the painter makes of light and colors, with chiaroscuro effects that accentuate the three-dimensionality. The artist of this Entombment of Jesus tries to indicate an original and intense way of Baroque paintingThe blocked gestures, the violent light, the blinding reds and the clarity of the details produce an almost metaphysical effect.An almost unnatural atmosphere illuminates the characters, who emerge from the dark background of the vegetation, placing themselves in the foreground as if on a theatrical stage directly in front of the viewer. Every single gesture takes on tones of dramatic and participatory desperation.The muscular body of Christ, still full of vigor, dominates the scene, while Joseph of Arimatea supports his head folded back. The latter who traditionally enjoys greater importance in terms of rank and age than Nicodemus who holds the sheet on the side of the feet. In the foreground, kneeling and crying, Mary Magdalene with her hair down, long and flowing. She hits the soft and sensual red cloak that surrounds her.In the background, the barely perceptible figure of Mary appears folded in on itself with her face hidden by the blue mantle and supported by the embrace of one of her pious women.
In good age related condition, the canvas has been relined and shows minor painting retouches. It comes from an Italian Milanese private collection.Set in a beautiful 17th century cassetta frame with scrolling carving highlighted with leaf decorations,  great original gold leaf gilding, with minor losses and defects consistent with age and use.
DELIVERY IN 72 HOURS
Thanks to agreements with the most important transport companies we are able to deliver within 72 hours from all over Italy!
INSURED GOODS
Each shipment is traceable and insured for the full value!
MAXIMUM CARE PACKING
The attention and care in packaging allow us always to travel the purchased goods with confidence and safety.
AUTHENTICITY CERTIFICATE
Within each package you will find tax records and the object authenticity certificate.
C.C.I.A.A. di Milano – Rea n° 1353105 | P.Iva 09289030158 | Copyright © 2023