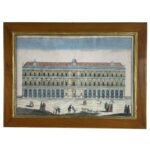 Remondini Italian Architectural Views 1770 Set of Four Grand Tour Etchings
Late-18th century Italian hand-colored copper engravings, four original Italian etchings by Remondini, from Bassano dating back to 1770 circa.
The set of four etchings depiting Italian and German architectural views and precisely:
Rome the  Quirinale Palace,  the Royal Palace in Naples, Piazza Grande in Parma and the Arsenale Palace in Berlin, the socalled Zeughaus which today houses the Deutsches Historisches Museum in Berlin.
The prints by Remondini fully represent italian popular printing history; they are simply engraved, mostly in contemporary hand color they have been object of many exhibitions, books and studies. The views were prepared for being shown in the Mondo Nuovo, inluminated by candles, during markets and fairs.
The Remondinis were a family of printers active in Bassano, Veneto, creating one of the most important chalcography in Europe, reaching its best in the second half of the eighteenth century; active until 1861.
These four water-colored etchings come from a private palazzo in Milan, are set within beautiful wooden frames with gilded profiles, under glasses. Listed measures refer to rectangular frames, the engraving only are 300 mm by 430 mm in good condition, with trimmed margins, wear consistent with age and use.
DELIVERY IN 72 HOURS
Thanks to agreements with the most important transport companies we are able to deliver within 72 hours from all over Italy!
INSURED GOODS
Each shipment is traceable and insured for the full value!
MAXIMUM CARE PACKING
The attention and care in packaging allow us always to travel the purchased goods with confidence and safety.
AUTHENTICITY CERTIFICATE
Within each package you will find tax records and the object authenticity certificate.
C.C.I.A.A. di Milano – Rea n° 1353105 | P.Iva 09289030158 | Copyright © 2023