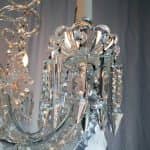 Mid 20th Century Italian Bohemian Crystal Twelve-light Chandelier
Timeless Bohemian Crystal twelve-light Chandelier, dating back to mid 20th century, of Italian origin, coming from a private residence in Milan, in very good condition, cleaned and rewired as per Italian standard.
A central baluster stem consisting of cut glass elements and bordered in the lower and upper ends by two crystal bowls, with a superb mercury gilding inner surface, decorated with crystal lance shaped cusps pendants.
From the central lower bowl, twelve solid crystal scrolling arms decorated with faceted surface. Each arm is decorated by flat crystal pendants with elegant lozenge shape, ending with crystal bobeches with the same decoration and shape of central bowls.
The central stem is surrounded by solid crystal "pastorals", curved arms with faceted surface, embellished with lozenge shaped crystal pendants.
Size: 33,5″ high (without extention chain) 35,5″
New wiring, for a max power of 1000 watt and 12 candle small bulbs Edison 14.
For a safe shipping it must be disassembled. Each arm and pastoral should be packed separately. We will forward instruction to reassemble it easily.
DELIVERY IN 72 HOURS
Thanks to agreements with the most important transport companies we are able to deliver within 72 hours from all over Italy!
INSURED GOODS
Each shipment is traceable and insured for the full value!
MAXIMUM CARE PACKING
The attention and care in packaging allow us always to travel the purchased goods with confidence and safety.
AUTHENTICITY CERTIFICATE
Within each package you will find tax records and the object authenticity certificate.
C.C.I.A.A. di Milano – Rea n° 1353105 | P.Iva 09289030158 | Copyright © 2023