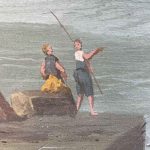 Italian 20th Century Pair of Architectural Caprices with Classic Ruins
Pair of architectural fantasies with ruins and classical figures, two very decorative Italian Caprices featuring a gray-blue tempera color on canvas in the first half of 20th century set in pale green frames.
The unknown Italian author obtains with quick brushstrokes a decorative sense full of imaginary composition taken from classical antiquity; the architectures and ruins infested by vegetation are used as theatrical scenes of a motionless landscape animated by figures of eighteenth-century memory.
One of the two canvas was mounted on a new stretcher. Both frames have a new pale green painting. They are in good condition except minor scratches as can be seen in the listed closed-up pictures.
DELIVERY IN 72 HOURS
Thanks to agreements with the most important transport companies we are able to deliver within 72 hours from all over Italy!
INSURED GOODS
Each shipment is traceable and insured for the full value!
MAXIMUM CARE PACKING
The attention and care in packaging allow us always to travel the purchased goods with confidence and safety.
AUTHENTICITY CERTIFICATE
Within each package you will find tax records and the object authenticity certificate.
C.C.I.A.A. di Milano – Rea n° 1353105 | P.Iva 09289030158 | Copyright © 2023