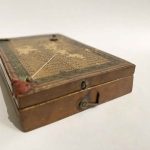 Antique 18th Century Diptych Sundial and Compass by German Beringer
Antique 18th Century Diptych Sundial and Compass a portable wooden boxwood sundial with compass, of German origin, by David Beringer, Nuremberg, dating back to the 1790 circa, in good age related condition, with signs of wear consistent with age and use.
David Beringer (1756 – 1821) was a German scientific instrument maker and craftsman active in Nuremberg and famous for his cubic wooden sundials visible in Metropolitan Museum of Art di New York.
A portable sundial, also known as a travel sundial, is a sundial that cannot be fixed or mounted. Stationary sundials usually measure the hour angle of the sun directly, and must be aligned with the points of the compass. Portable sundials are mostly elevation sundials, with which the elevation angle of the sun is measured and is indicated after evaluation with the as known necessary declination, respectively the year date of the sun as time. As a rule, you also need to know whether it is morning or afternoon, because a certain elevation angle can be measured twice a day.
Size: Height: 1.6 cm
Width: 5,5 cm
Depth: 8.3 cm
DELIVERY IN 72 HOURS
Thanks to agreements with the most important transport companies we are able to deliver within 72 hours from all over Italy!
INSURED GOODS
Each shipment is traceable and insured for the full value!
MAXIMUM CARE PACKING
The attention and care in packaging allow us always to travel the purchased goods with confidence and safety.
AUTHENTICITY CERTIFICATE
Within each package you will find tax records and the object authenticity certificate.
C.C.I.A.A. di Milano – Rea n° 1353105 | P.Iva 09289030158 | Copyright © 2023