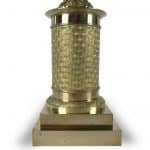 A Pair of French Empire Ormolu Candelabra with Putti
A  stunning pair of Empire four-light gilt bronze figural candelabra, of French origin,  dating back to 1810 circa. Extraordinary high-quality casting, chasing, engraving and mercury gilding.
Each flambeau has four curved branches  decorated with floral patterns, ending with palm leaves and wax cups or bobéches are flower-shaped. Candle holders issuing from a torch, held by putti   balancing on a round globe. Both cherubs have a  perfect anatomy, with  curled hair and a spectacular chiseled  plumage wings. The candelabra are mounted on a stepped square base measuring 13 x 13 centimeters .
In overall excellent condition, with the exception of old restorations on a garland, an index finger and a leaf top missing.
They come from a luxury villa at Como Lake..
We have disassembled both works for cleaning  and  each item consists of 38 pieces and a globe  edge   is engraved with monogram M.B, may be initials of  the artisan maker.
Each piece is characterized by  a superb casting, chasing, engraving and mercury gilding and must be made by a great French fondeur-ciseleur of Empire period.
DELIVERY IN 72 HOURS
Thanks to agreements with the most important transport companies we are able to deliver within 72 hours from all over Italy!
INSURED GOODS
Each shipment is traceable and insured for the full value!
MAXIMUM CARE PACKING
The attention and care in packaging allow us always to travel the purchased goods with confidence and safety.
AUTHENTICITY CERTIFICATE
Within each package you will find tax records and the object authenticity certificate.
C.C.I.A.A. di Milano – Rea n° 1353105 | P.Iva 09289030158 | Copyright © 2023