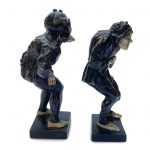 20th Century Pair of Beggars
Pair of Beggars in Pastiglia of the first half of 20th century. With a lovely patina, both sculptures are decorated in brown and ivory tones. One figure depicts Rigoletto, the court jester, as indicated in the square base of the  standing figure. The other figure represents a sort of caricature of an old deformed  and quite suffering character : the hump, the leek on the forehead, the aching posture and the anguished expression of the face are the elements of a characteristic physiognomic repertoire of popular and grotesque representations realized  in Northern Europe.
On the back of the base of the Rigoletto we find the initials MDPS probably referring to the manufacturer.
DELIVERY IN 72 HOURS
Thanks to agreements with the most important transport companies we are able to deliver within 72 hours from all over Italy!
INSURED GOODS
Each shipment is traceable and insured for the full value!
MAXIMUM CARE PACKING
The attention and care in packaging allow us always to travel the purchased goods with confidence and safety.
AUTHENTICITY CERTIFICATE
Within each package you will find tax records and the object authenticity certificate.
C.C.I.A.A. di Milano – Rea n° 1353105 | P.Iva 09289030158 | Copyright © 2023