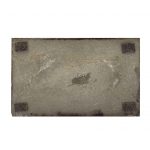 20th Century Italian Naked Girl with Fish and Net by Enzo Pasqualini
20th Century Italian Naked Girl with Fish and Net a bolognese terracotta  sculpture dating back to 1940s by Enzo Pasqualini (Bologna, 1916-1998).
The Bolognese author was director of the Academy of Fine Arts in Bologna. A pupil of Cleto Tomba, Silverio Montaguti and Ercole Drei, he began exhibiting at a very young age, participating in the Interprovincial Union of Bologna in 1938 and winning a competition held by the Venice Biennale in 1939.
A donation  in 1971, together with three other professors of the Academy, gave rise to the Art Collection of card. Lercaro. He is also the author of many sculptures in the Certosa di Bologna cemetery.
The terracotta sculpture is in fair age related condition with a lovely dark bronze patina.The neck, the right knee and the left ankle show cracks that do not affect the sculpture statics  thanks to an iron core inside the figure.
DELIVERY IN 72 HOURS
Thanks to agreements with the most important transport companies we are able to deliver within 72 hours from all over Italy!
INSURED GOODS
Each shipment is traceable and insured for the full value!
MAXIMUM CARE PACKING
The attention and care in packaging allow us always to travel the purchased goods with confidence and safety.
AUTHENTICITY CERTIFICATE
Within each package you will find tax records and the object authenticity certificate.
C.C.I.A.A. di Milano – Rea n° 1353105 | P.Iva 09289030158 | Copyright © 2023