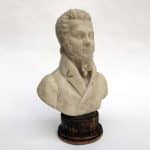 Italian Alabaster Gentleman Bust Figure By Tabacchi mid 19th Century
Antique Italian alabaster sculpture of a Gentleman by Odoardo  Tabacchi (Valganna 1831- Milano 1905),   a young work of the Italian artist, realized in alabaster during the mid 19th century.
The half-bust elegant dressed male figure is impeccably detailed hand-carved,  in a magical warm tone of alabaster, signed on the back coat collar Tabacchi.
This Italian antique sculpture comes from a Milanese private collection and is in good condition,  standing on a circular turned wooden basement.
Odoardo Tabacchi was an important Italian  Lombard sculptor  of the second half of 19th century Realist school, attended the Accademia di Brera in Milan. Teacher of the Accademia  Albertina di Belle Arti in Turin, He realized many significant monuments such as Cavour in Milan, Garibaldi and Frejus in Turin, Arnaldo da Brescia in Brescia and Michelangelo in Varese and attended to main Italian Expositions, as well as in Paris and Vienna.
DELIVERY IN 72 HOURS
Thanks to agreements with the most important transport companies we are able to deliver within 72 hours from all over Italy!
INSURED GOODS
Each shipment is traceable and insured for the full value!
MAXIMUM CARE PACKING
The attention and care in packaging allow us always to travel the purchased goods with confidence and safety.
AUTHENTICITY CERTIFICATE
Within each package you will find tax records and the object authenticity certificate.
C.C.I.A.A. di Milano – Rea n° 1353105 | P.Iva 09289030158 | Copyright © 2023