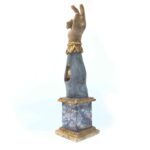 18th Century Italian Reliquary Arm of Saint Mathiew Carved Blue Painted and Gilt
An unusual Italian arm reliquary of Saint Mathiew from Umbria, Central Italy, it is a carved wooden reliquary made in the shape of an arm and realized in the 18th century. The hand holds the thumb, first and second finger extended towards the heavens in a traditional gesture of blessing.
With a pale blue painting, giltwood details, this unique reliquary shows in the central section the relic of Saint Matthiew, behind a glass with a sealing wax and a paper label with S. Matteo Ap. Saint Matthiew Apostle.
This unique work to display in your Cabinet of Curiosities, is a religious item of Italian origin, comes from Central Italy.
Good condition. Old  restorations in painting and gilding.
DELIVERY IN 72 HOURS
Thanks to agreements with the most important transport companies we are able to deliver within 72 hours from all over Italy!
INSURED GOODS
Each shipment is traceable and insured for the full value!
MAXIMUM CARE PACKING
The attention and care in packaging allow us always to travel the purchased goods with confidence and safety.
AUTHENTICITY CERTIFICATE
Within each package you will find tax records and the object authenticity certificate.
C.C.I.A.A. di Milano – Rea n° 1353105 | P.Iva 09289030158 | Copyright © 2023