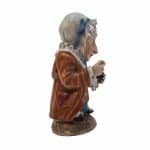 Antique Italian Ginori Porcelain Dwarfs Figures
An Italian  Ginori Porcelain pair of Dwarfs or  two old persons represented as grotesque figures.  These small  figures inspired from a series of drawings by  Jacques Callot's entitled, "Grosteque Dwarves" dating back to 1616.
Both figures are in excellent condition, come from a private Milanese collection and date back to the second quarter of 19th century.
With a cobalt blue Doccia Ginori mark on the underside,  a G under the Crown of Naples, stand on circular bases and date back to late 19th century.
According to historical facts, the figures were actually real-life dwarves who were hired to stand outside of the Royal courts, wearing advertisements.
DELIVERY IN 72 HOURS
Thanks to agreements with the most important transport companies we are able to deliver within 72 hours from all over Italy!
INSURED GOODS
Each shipment is traceable and insured for the full value!
MAXIMUM CARE PACKING
The attention and care in packaging allow us always to travel the purchased goods with confidence and safety.
AUTHENTICITY CERTIFICATE
Within each package you will find tax records and the object authenticity certificate.
C.C.I.A.A. di Milano – Rea n° 1353105 | P.Iva 09289030158 | Copyright © 2023