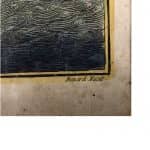 Marine Etching Reale Ship Galley Prints Paris Diderot Benard 1772
Marine Nautical Etching, antique copperplate engraving on paper from Diderot and d'Alembert's Encyclopédie, Paris, 1772 by Benard after Belin and Gaussier drawings.
The plate shows an 18th century French ship, a galley with oars called Reale. Marine, dessein d'une galere a la Rame nommee la Reale. Ship-Galley-Sailing Vessel-Cross Section-Diderot-Benard.
Antique etching ngraved by Robert Bénard (1734, Paris – 1777) mainly famous for having supplied 1,800 plates circa to the Encyclopédie by Diderot & d'Alembert from 1751.
Later hand-watercolor decoration and  set within a passe-partout and modern blue faux-marble painted frames, this antique work is in good age related condition, general age-related toning, wear consistent with an history of 250 years.
Size (in cm): The overall size is ca. 68 x 38 cm. Frames measure 101 x 69 cm.
DELIVERY IN 72 HOURS
Thanks to agreements with the most important transport companies we are able to deliver within 72 hours from all over Italy!
INSURED GOODS
Each shipment is traceable and insured for the full value!
MAXIMUM CARE PACKING
The attention and care in packaging allow us always to travel the purchased goods with confidence and safety.
AUTHENTICITY CERTIFICATE
Within each package you will find tax records and the object authenticity certificate.
C.C.I.A.A. di Milano – Rea n° 1353105 | P.Iva 09289030158 | Copyright © 2023