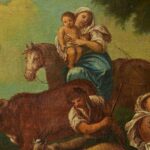 19th century Landscape with Figures and Animals Hungarian School
Late 1800s Landscape with Figures and Herds Hungarian School, a Late 19th century Bucolic, rural Scene Oil on horizontal shaped canvas, depicting a lively rural and bucolic scene. To the right of the bucolic composition, dense, somber vegetation provides a backdrop for a fountain with a mask and stepped base on which rests a male profile, a bas-relief carved in marble in the foreground.
The depiction is full of animals and characters, a woman with child proceeding on horseback, figures of shepherds on foot intent on grazing and governing a small flock of sheep, a goat and three cows.
On the left of the painting, a natural scenery opens the view to the planted plain, where a landscape with reliefs on the horizon can be seen in the background, bathed in soft daylight, filtered by clouds.
The compositional model of this work of Central European provenance describes a serene and genuine reality of complete harmony between the figures and the landscape.
The painting comes from a private Milanese collection and is in good condition; it has the canvas a bit soft and would possibly need cleaning. It is an  unframed oil on canvas painting.
DELIVERY IN 72 HOURS
Thanks to agreements with the most important transport companies we are able to deliver within 72 hours from all over Italy!
INSURED GOODS
Each shipment is traceable and insured for the full value!
MAXIMUM CARE PACKING
The attention and care in packaging allow us always to travel the purchased goods with confidence and safety.
AUTHENTICITY CERTIFICATE
Within each package you will find tax records and the object authenticity certificate.
C.C.I.A.A. di Milano – Rea n° 1353105 | P.Iva 09289030158 | Copyright © 2023