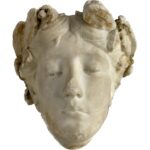 Greek Roman Style Italian Marble Female Head Early 20th Century Garden Statue Fragment
Early 20th Century Italian Marble Female Head Garden Statue Fragment of Classical Roman Greek Style. Carved marble head of  a woman,  an ideal female character, probably a deity,  the face of a girl with long hair gathered and decorated with a laurel garland, with minimal defects; on the neck there are some scratches as documented in the photo gallery and signs of stucco at the base of the neck. Signs of iron oxide are visible in the hairstyle of this ancient female head crowned with laurel in carved marble from the Art Nouveau Italian period. This ancient female head inspired to the classical Greco-Roman style dates back to the first decades of the 1900s and comes from a private Milanese collection.
DELIVERY IN 72 HOURS
Thanks to agreements with the most important transport companies we are able to deliver within 72 hours from all over Italy!
INSURED GOODS
Each shipment is traceable and insured for the full value!
MAXIMUM CARE PACKING
The attention and care in packaging allow us always to travel the purchased goods with confidence and safety.
AUTHENTICITY CERTIFICATE
Within each package you will find tax records and the object authenticity certificate.
C.C.I.A.A. di Milano – Rea n° 1353105 | P.Iva 09289030158 | Copyright © 2023