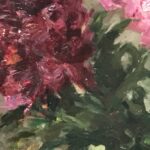 European 20th Century Flower Still Life Pink Peonies by Pick Morino Gilt Frame
Edmund Pick-Morino still life of flowers, an oil on canvas painting signed lower right by the Austro Hungarian painter Edmund Pick-Morino (Vienna 1877-1958 Brussels). A very decorative and bright flowers painting of polychrome peonies, rose and red peonies arranged in a dark vase, and white flowers lying on the top. This beautiful flowers bouquet is portrayed with fast stretches, immediate strokes, it might seem a casual composition but it is wisely balanced, mixing polychrome elements, such as the white peony lying on the table on the left side. In good condition, this European first canvas painting measures 70h. x 60 cm without frame, dates back to early 20th century and it is set in an old gilt wood frame showing old signs of gilding restoration.
1877-1958 Born in Hungary, Pick-Morino was raised in Vienna and studied at the Akademie in Munich; he also studied in Paris and Florence (under Arnold Broecklin). In 1901 he moved to Paris, later moving to Baden and Vienna. He returned to Hungary but left in 1958, and resided until his death in Belgium. He was noted as an artist of impressionist inspiration, particularly for floral pieces.
DELIVERY IN 72 HOURS
Thanks to agreements with the most important transport companies we are able to deliver within 72 hours from all over Italy!
INSURED GOODS
Each shipment is traceable and insured for the full value!
MAXIMUM CARE PACKING
The attention and care in packaging allow us always to travel the purchased goods with confidence and safety.
AUTHENTICITY CERTIFICATE
Within each package you will find tax records and the object authenticity certificate.
C.C.I.A.A. di Milano – Rea n° 1353105 | P.Iva 09289030158 | Copyright © 2023