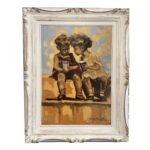 Children Portrait by Polenghi Piero 1930 Circa
Children Portrait by Polenghi Piero 1930 Circa an Italian oil on beech plywood painting, it portrays two children in summer dresses sitting on a wall with glasses in their hands while one of them wants to finish his friend's drink. At the bottom right the title Don't you have any more? in underlined italics  highlightes the depicted scene. The painting is set in a white lacquered wooden frame with gilded carved profiles,  it is in good condition On the back of the pane,  the stamp of the G. Marelli Art Gallery, via Rastrelli 6, Milan.
Piero Polenghi was a Milanese painter born in 1895 and died in 1941.
DELIVERY IN 72 HOURS
Thanks to agreements with the most important transport companies we are able to deliver within 72 hours from all over Italy!
INSURED GOODS
Each shipment is traceable and insured for the full value!
MAXIMUM CARE PACKING
The attention and care in packaging allow us always to travel the purchased goods with confidence and safety.
AUTHENTICITY CERTIFICATE
Within each package you will find tax records and the object authenticity certificate.
C.C.I.A.A. di Milano – Rea n° 1353105 | P.Iva 09289030158 | Copyright © 2023