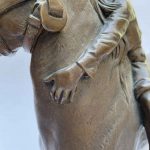 Child Riding a Horse Bronze Sculpture by Austrian Berndorf 20th Century
Berndorf Child riding a horse, an Austrian bronze sculpture with light patina depicting a trotting horse mounted by a child in shorts clinging to the animal's neck.
The hat has now fallen between the horse's legs and the boy has a frightened expression.
The rectangular support base has floral decorations, shows the BERNDORF signature and the initials TR in a corner in block letters.
Berndorf was an Austrian sculptor and fondeur active in the first half of the 1900s.
The sculpture is in good condition.
DELIVERY IN 72 HOURS
Thanks to agreements with the most important transport companies we are able to deliver within 72 hours from all over Italy!
INSURED GOODS
Each shipment is traceable and insured for the full value!
MAXIMUM CARE PACKING
The attention and care in packaging allow us always to travel the purchased goods with confidence and safety.
AUTHENTICITY CERTIFICATE
Within each package you will find tax records and the object authenticity certificate.
C.C.I.A.A. di Milano – Rea n° 1353105 | P.Iva 09289030158 | Copyright © 2023