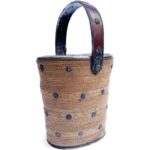 20th Century Italian Almsgiver Handled Basket Case with Silver and Stones Elements
An Italian straw work basket shaped  case from Bologna, a fantastic, typical and rare almoner handled box used by Italian religious for charity purposes to collect begging. Decorated all over with intricately patterned straw covered case, a braided straw on an oval wooden structure. The oval wooden lid features a detailed repoussé silver layer decorated with scrolls and vegetal motifs and centered by a green precious stone. Silver hanlde is coated with leather and decorated by applied repoussé silver floaral elements and topped by a precious stone. Red lining inside.
Silver elements are marked 800 and are realized by Stefani silvermaker from Bologna in the mid 20th century.
The attribution to the silversmith Enea and Alessandro Stefani was mademade for similar artworks on the antiques market.
Handmade in Italy, in Bologna, Emilia Romagna region, dating back to the first decade of 19th century , this oval shaped, hand-realized lidded almoner with arched handle was once used as hand-bag for begging and can be used nowadays for sewing, weaving or knitting works.
Finely repoussé silver flowers are applied on the whole oval body of this straw basket.
This basket is wonderful as a decorative object or an unusual storage solution. Bag basket making is an ancient and humble craft, but in the hands of a skilled artisan a simple basket can become a truly beautiful work of art.
In good condition, with working lock and key on the lid.
In overall good condition, minor signes of wear consistent with use and age, the lid shows a small cracking in the internal wooden cover. see closed up picture.
A lovely antique Italian handmade box for collectors.
Listed height of 42 cm refers to hanle's height – 26 cm is just the basket height.
The historic Stefani silverware was founded in Bologna in the early 1900s by Enea Stefani, who had learned the art of the silversmith at another historic Bolognese reality, the Zanetti workshop. In 1920 Enea Stefani inaugurated his workshop in Via Clavature, which will be the headquarters of the famous company until it definitively closes in 2015. First Enea and his son Alessandro then produce works of the highest quality, sometimes true masterpieces, working the silver with the ancient techniques of chiselling, embossing, engraving, wax casting, enriching their creations with semi-precious stones and high-fire enamels. The great mastery in the workmanship is combined with an aesthetic research and a poetic vein, especially in Alessandro, who succeeds his father in 1974, and who also signs numbered specimens, which lead to the creation of splendid pieces, such as candlesticks, rocaille-style double , cutlery, centrepieces, masgalani-silver basins destined for the Sienese Palio- neo-Renaissance risers, silver plates with polychrome enamels and semi-precious stones, but also precious jewels and real sculptures, requested all over the world, often for collections prestigious among the illustrious buyers, the sheikh of Brunei and François Mitterand.
DELIVERY IN 72 HOURS
Thanks to agreements with the most important transport companies we are able to deliver within 72 hours from all over Italy!
INSURED GOODS
Each shipment is traceable and insured for the full value!
MAXIMUM CARE PACKING
The attention and care in packaging allow us always to travel the purchased goods with confidence and safety.
AUTHENTICITY CERTIFICATE
Within each package you will find tax records and the object authenticity certificate.
C.C.I.A.A. di Milano – Rea n° 1353105 | P.Iva 09289030158 | Copyright © 2023