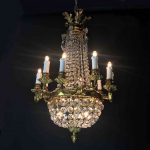 20th Century Italian Crystal Chandelier with Gilt Bronze Empire Style Frame
A charming Empyre style Italian crystal chandelier, a thirteen-light gilded cast bronze chandelier realized in Italy around 1975 circa, richly decorated with waterfall crystal festoons, an ormolu circular structure decorated by cast and chiseled vegetal elements, ten arms ending with Edison 14 candles, additional three E14 light bulbs inside the crystal basket.
Suitable for thirteen Edison 14 bulbs (not included)
It is an Italian creation with a superlative gilding that gives a trendy outlook to this classic chandelier.. A small but lovely Italian chandelier, a statement piece for your entry, bedroom or dining room.
Listed measure do not include any chain, but chandelier structure only.
Of Italian origin, it comes from a Milanese private palazzo and dates back to 1950s circa.
The chandelier is in good condition, with double new wiring for Italian standards, suitable for 700 watt max power for the 3 internal and ten external light bulbs.
DELIVERY IN 72 HOURS
Thanks to agreements with the most important transport companies we are able to deliver within 72 hours from all over Italy!
INSURED GOODS
Each shipment is traceable and insured for the full value!
MAXIMUM CARE PACKING
The attention and care in packaging allow us always to travel the purchased goods with confidence and safety.
AUTHENTICITY CERTIFICATE
Within each package you will find tax records and the object authenticity certificate.
C.C.I.A.A. di Milano – Rea n° 1353105 | P.Iva 09289030158 | Copyright © 2023