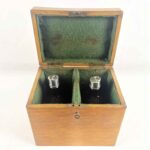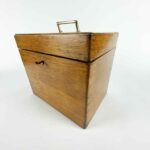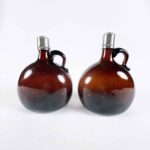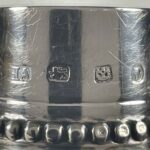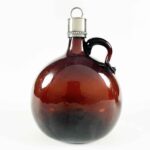 19th Century English Oak Liquor Bottle Case
19th Century English Oak Liquor Bottle Case with brass Chubb lock and brass handle engraved with Capt. E.J. Ward R. A. relative to Captain  Edward John Ward, military of the  Royal Academy and the initials  L.S.D.
The box contains two dark glass, silver punched bottles with  curved handle with garniture and stopper. Engraved on the bottle neck garniture we find  L.S.D. the same initials of the handle. Marks on the cap relativet to the silver title of 925/000 and indicate the Sheffield City Assay Office in 1860/61, the silversmith initials H.A  are unidentified.
The Chubb brass lock is marked with the well-known lock brand of London.
Inside the box, documents referring to the career and death of the Major Edward John Ward 1836-1879.
In overall good condition, the green fabric interior lining shows signs of wear and use.
DELIVERY IN 72 HOURS
Thanks to agreements with the most important transport companies we are able to deliver within 72 hours from all over Italy!
INSURED GOODS
Each shipment is traceable and insured for the full value!
MAXIMUM CARE PACKING
The attention and care in packaging allow us always to travel the purchased goods with confidence and safety.
AUTHENTICITY CERTIFICATE
Within each package you will find tax records and the object authenticity certificate.
C.C.I.A.A. di Milano – Rea n° 1353105 | P.Iva 09289030158 | Copyright © 2023