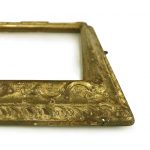 18th Century Italian Carved Gilt Wood Frame
18th Century Italian Gilt Wood Frame realized in fir with a lovely original gilding. Rectangular shape, could be hanged horizontally or vertically. Beautiful hand-carving with scrolling motif and bulino engraving. Italy, 18th century.
Good age related condition.
Size:
Height in cm: 31.5 (25,8) internal size
Width in cm: 39.7 (34,3) internal size
Depth: 3 cm – Rabbet depth: 1,2 cm
DELIVERY IN 72 HOURS
Thanks to agreements with the most important transport companies we are able to deliver within 72 hours from all over Italy!
INSURED GOODS
Each shipment is traceable and insured for the full value!
MAXIMUM CARE PACKING
The attention and care in packaging allow us always to travel the purchased goods with confidence and safety.
AUTHENTICITY CERTIFICATE
Within each package you will find tax records and the object authenticity certificate.
C.C.I.A.A. di Milano – Rea n° 1353105 | P.Iva 09289030158 | Copyright © 2023