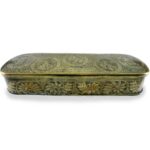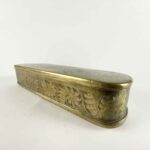 18th Century Dutch Brass Tobacco Box with Figures
18th century Dutch brass tobacco box with hinged lid engraved with five circular medallions containing the busts of male noblemen figures with inscriptions and dates, the most recent date is 1748. Dutch Engraved Brass Tobacco box from 1700 of elongated rectangular shape, with rounded corners, fully engraved on all sides; the side edge is fully decorated with acanthus leaf motif, a graceful pattern of scrolls decorated with foliage. The lower part , the box bottom is engraved with a gallery of figures behind a balustrade covered with heraldic coats of arms.
In good age related condition with signs of wear and use, slightly faded engraved Dutch inscriptions.
It comes from an Italian private collection.
DELIVERY IN 72 HOURS
Thanks to agreements with the most important transport companies we are able to deliver within 72 hours from all over Italy!
INSURED GOODS
Each shipment is traceable and insured for the full value!
MAXIMUM CARE PACKING
The attention and care in packaging allow us always to travel the purchased goods with confidence and safety.
AUTHENTICITY CERTIFICATE
Within each package you will find tax records and the object authenticity certificate.
C.C.I.A.A. di Milano – Rea n° 1353105 | P.Iva 09289030158 | Copyright © 2023